How to Play Poker With Friends Online
Playing poker has always been a popular pastime activity for plenty of people in the world. More so, the rise of technology has given new ways for poker lovers to enjoy the thrills of the game.
Nowadays, you don't even need to leave your home to play poker. Technology continually improves, so now nothing stops you from playing online poker anytime you see fit.
Moreover, tons of players would prefer the thrill of playing online poker for real money against real people instead of RNG-based games.
For that reason, having the chance to play online poker with friends is something that gets players excited, but not everyone knows how to enjoy such games.
Therefore, in this article, we at BestPoker will focus on how you can play poker online with your friends.
Host Private Poker Games
Let's start with arguably the most popular choice among punters – private online poker games. This is your best option if you prefer to play online poker, but with a select group of friends.
Should you decide on this, you can easily set up a private online poker game from home. This is not a demanding task at all, and you can set it up in a matter of minutes.
Thankfully, there are dozens of reliable online poker sites that can allow you to host private poker games. Moreover, there is even no need to download any software if you wish to host private poker games online, as sites allow you to do so from any browser.
All you need to do to begin an online private poker game is to pick a reliable site, open it, choose a game, and invite your friends to join.
Mobile Poker
Apart from online poker sites, you can also download specific poker apps that will allow you to play online poker with friends.
These apps are completely free, and some of the options you have at your disposal are:
Club management tools – you can choose administrators, accept or remove members, customize game tables, length of sessions, and much more in the online poker game.
Video chat – you can interact with your friends whenever you can fit. Any cash game or tournament has this option
Player stats – you can see results, points, top players, knockouts and more
Game management tools – you can schedule games and online poker tournaments at any time
Online Cash Games
Continuing here, you can choose a bit more fun and exciting way of playing poker. With cash games, players don't get eliminated, but they just buy in again and they keep on playing.
What is also interesting is that the process of setting up any poker cash game is the same as setting up a private poker tournament.
You can also choose to play cash games for real or virtual money. The latter is a great way for newbies to start playing poker and learn the basics of any game.
There is no limit on how long you can play these games for free, so if you are new, we always recommend you try out free poker games. Once you feel more comfortable, you can start to play online poker for real money and the fun can begin.
However, you always need to have in mind that when playing online poker, things can quickly turn very sour, if you are not careful. The vast majority of cash games will allow players to play for low stakes, but there are punters who prefer the big bucks.
Therefore, it is always recommended that you have control over your budget at any cash game you choose. The whole gaming experience can be very extreme if you lose control, so pay close attention to this when you play and host cash games.
Online Poker Tournaments
Plenty of new players that just start to play poker don't know that they also have the chance to set up private poker tournaments with friends.
Of course, you can only imagine that this is a great chance to experience the thrill of playing online poker with friends without spending a lot of money at a real poker tournament.
Most people are not familiar with the possibility of setting up a private poker tournament with their friends. Doing this is a great way to experience the thrill of the game without having to spend a lot of money for a seat at a real poker tournament.
If you are one of the competitive online poker players, then poker tournaments are the right choice for you.
Almost all of the most reliable online sites in the world will allow you to set up a tournament to play online poker with friends, so you won't have any problem starting an amazing gaming experience.
Eliminating other players from any poker game can be very thrilling, especially when the tournament is hosted among friends and with a nice competitive atmosphere.
You have two options when setting up a poker tournament:
A regular tournament
Rebuy tournament
The first one is the more competitive option. With a regular private tournament, players can be eliminated just 10 minutes into the game, without any chance of coming back.
However, when it comes to the second option, players will have the chance to rebuy their place at the private table after they were removed.
Friendly Poker Tournaments or Cash Games?
By now, you must be wondering whether a poker tournament or a cash game is the right option. We at BestPoker all agree that tournaments are very fun and bring tons of excitement to whoever participates. They also bring out the competitive side of each of your friends, so there are plenty of perks with tournaments.
Moreover, when you decide to play online poker in a tournament with your friends, you will not only depend on your skills – you need to level up with your opponents, look at the ICM considerations and so on.
However, the one negative aspect of a poker tournament is that some types of them can see you get eliminated very early and have a short run.
Unless you have nothing against watching the action from the sidelines after you are eliminated, then you are best advised to stay clear of tournaments. You can also choose rebuy tournaments if you have a bit bigger wallet for poker club games.
Alternatively, you can decide to create cash games. They can offer a nice setup and they are a good way for newbies to begin to play online poker with friends.
With cash online poker games, you cannot really go bust and you can top up whenever. It is entirely up to you and your friends to decide whether you want to set any limits and how much you want to reload.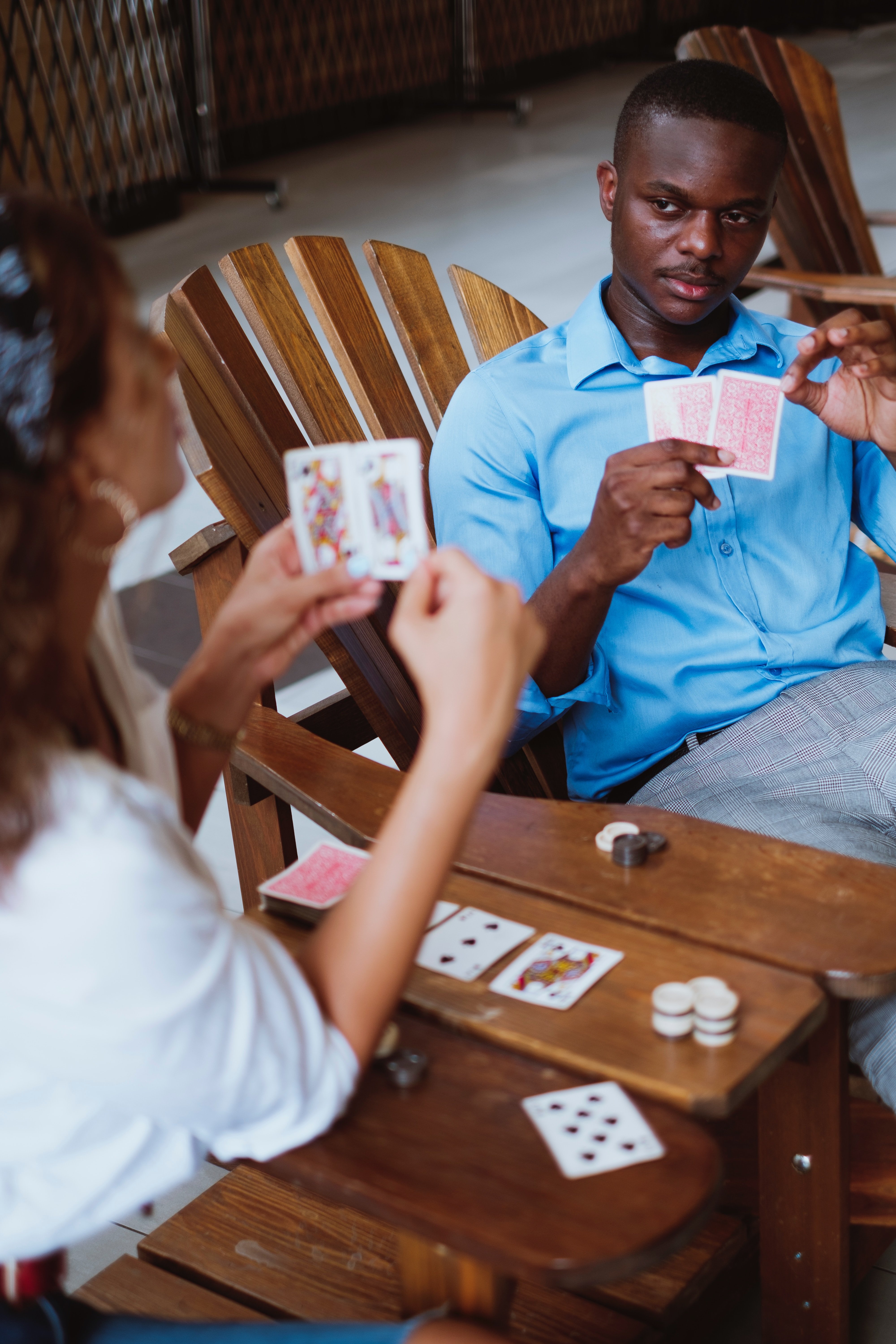 This way, you choose the main rules for the poker game, and you can also avoid certain players getting out of hand with the chips.
At the end of the day, it depends entirely on you which option you go for when you play poker with friends. Think about what type of player you are and remember the above-mentioned perks of cash games and tournaments before you make a choice.
How to Start Playing Poker Online With Friends
Now that we have covered the main aspects of how you can start to play poker with friends, it is time to take a step back. New players in the online poker industry may feel overwhelmed with the choice they have for enjoying poker online with friends and they don't really know where to start.
This is where we at BestPoker.com come in. Below are the basic few steps you need to make when you look to start poker games with your friends.
Register
After you decide which site or app you will use to play online poker with friends, it is time to register by filling out a registration form.
You will need to enter personal information such as your real name, address, date of birth, email address, etc.
Moreover, you will need to choose a unique username and set up a password. You can use them as your login details. The site will usually send you an activation link after you provide all the necessary information.
We mentioned free online poker sites previously, and as you can imagine, they may not ask for such detailed information.
Some apps may just ask for your email address and you will be even allowed to access the account with your Facebook profile.
Deposit
If you decide to play a private poker game but for real money, then you and your friends will need to fund your newly created accounts. We are happy to say that this is a very simple process as well.
All you need to do is head to the deposit option in the app or site and choose one of the available payment methods.
Some operators will allow you to play money games or organize private poker rooms with some minimum and maximum deposit limits. Deposits are usually instant, so you will instantly be able to enjoy a private game.
Create a Private Poker Game or a Tournament
After you and all your friends have created accounts on the same app or site, it is time to create a private online table to play at.
Depending on the site you have registered on, the process to create a game will differ. However, you have nothing to worry about, as there will usually be instructions on the site or poker app.
If you still have something unclear with the poker club, then you can always contact the support team on the site.
You will be able to choose the type of private poker game, buy-in amount, pot limits, prize pool, and much more. You will also need to create an invitation code that your friends will need to use to join the game.
Withdraw
Of course, since you play for real money, you or your friends will eventually need to withdraw winnings. To withdraw funds, you will need to choose the same payment method as your deposits.
Just head to the cashier section on the site, choose your withdrawal method and amount, and you are good to go.
Some operators may have limits on withdrawals, and withdrawal time takes about 24-48 hours, depending on the payment method.
Pros and Cons of Playing Poker With Friends
Whether you play Texas Holdem poker or other poker variants with your friends, there will always be certain pros and cons that you need to be aware of.
Pros
You can always play private games, no matter your location
You can enjoy any popular poker game
You don't have to worry about chips, time, etc. – the site takes care of it
You can enjoy good interaction with friends, as private real money games offer tons of excitement
There are free versions of poker games you can try out to learn the rules before you start playing for real money
Cons
The pace of play is much faster than in other games, so you need to be sharp all the time
If you are a newbie, you will need some time to get used to private poker games
Frequently asked questions
Is there an app to play poker with friends?
Of course, there are tons of reliable poker apps that you can download to enjoy private games with your friends.
How do I set up a poker game with a friend?
First, you will need to download the app or visit the site you wish to play on. Then, you can register an account, make a deposit and you will be able to create a private poker game. You will need to send an invitation link to your friends so that they can join in.
How do you play poker with friends on the phone?
Playing poker with friends on a phone is easy and free. As mentioned above, you will need to download the poker app, create an account and you will be able to start playing. Just send the invitation link to your friends and you are all done.
Where to play poker online with friends for real money?
There are tons of sites and apps that are world-class when it comes to offering you the chance to organize poker games with friends. We at BestPoker can advise you to look at the security details of the site, alongside some online reviews to check whether it is a reliable one.